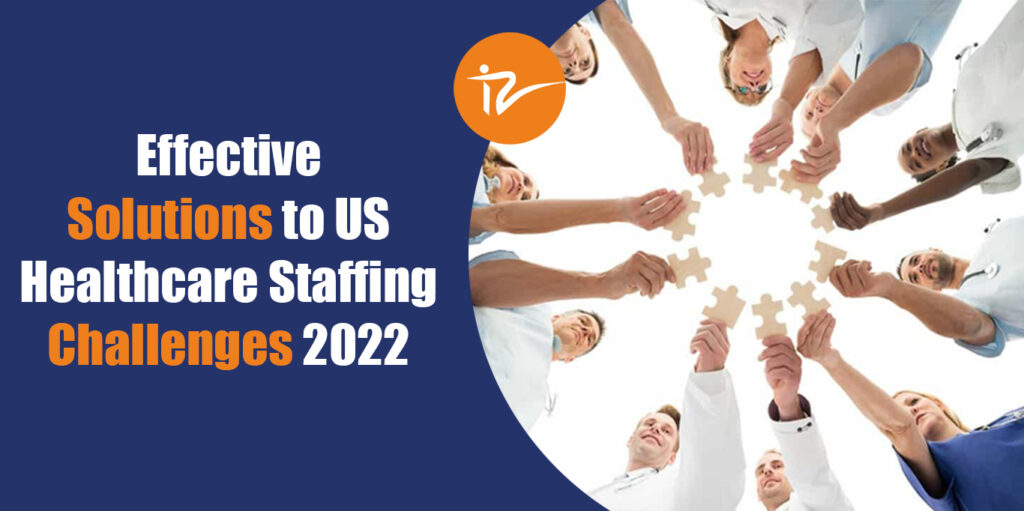 Fundamentally, the answer to our challenges in healthcare relies in engaging and empowering the individual! – Elizabeth Holmes 
Introduction 
Twenty-two percent nurses indicated that they may leave their current position providing direct patient care within the next year.  
Health is wealth, and when in the Healthcare sector, one must be outright responsive and personally well to carry out their roles and responsibilities. The US Healthcare Staffing is facing an adverse situation wherein there is a shortage of skilled professionals, and recent reports suggest steep attrition rates.  
In our previous blog we discussed the top challenges facing US healthcare staffing in 2022. Here, we bring to you, effective solutions to deal with these challenges efficiently.   
US Healthcare Staffing Challenges 
The major challenges facing US healthcare are  
Shortage of qualified nurses

Burnout, anxiety among healthcare professionals

 

Ageing of the current workforce

 

Various hard-to-fill positions

 

Decline in willingness to work

 
How to Turn Tragedy into Opportunity? 
The recent developments in US Healthcare recruitment sector suggests that there is a wide range of opening for qualified and skilled professionals. Individuals must seek this opportunity to get themselves places in their dream jobs.  
They must not lose their determination and willingness, rather demonstrate the go-getter spirit to live their aspirations. 
5 Effective Solutions to the Ongoing Crisis in US Healthcare Recruitment 
Solution 1 – Organizations should opt for third party HR solutions to reduce burden of in-house HR and meet the rising demands of skilled nurses. These solutions help in building a strong workforce with the best talents from various locations. There are many staffing companies in the industry, trying to connect the most reliable talents to the best opportunity. 
Solution 2 – The hiring managers and executives need to understand the gravity of the situation and come up with methods of providing these professionals with the best onboarding job. Healthcare is a very crucial industry, and any negligence in the hiring process must be eliminated at all costs.  
Solution 3 – It is time that hiring managers become comfortable with hiring foreign-born healthcare professionals. There is a pool of talent across the world, and limiting hiring to one city, or country will lead organizations to a greater scarcity.  
Solution 4 – As mentioned earlier there are various hard-to-fill positions in the healthcare industry. To deal with this, hiring managers must ensure that the job descriptions are clearly laid out. The experience required and remuneration paid must match the job role for the candidates to be comfortable with joining.  
Solution 5 – The burnout, anxiety, mental health problems caused due to work life can be significantly reduced by including proper mental and physical wellness check for the healthcare professionals. Organizations must also look for ways to increase allowances, provide benefits to them to raise inclination of individuals towards this industry. 
Workforce diversity and inclusivity remains the top priority and challenge in 2022. These steps will enable hospitals to keep a check on the shortages, and depending on the problem, emerge out with the best solutions.  
How IRI contributes to solving the complexities in US Healthcare Staffing 2022 
Integrated Resources Inc. is an organization that believes helping organizations grow by providing them the most reliable staffing solutions. We cater to the Healthcare, Life Sciences, IT, Engineering industry and help build their workforce across US even in the most remote locations. 
It is our mission to leave no stone unturned meeting the staffing needs of the STEMP industries. You need a staffing partner that you can rely on. We get this, and that's exactly why we stand ready to help in your career search.